Bring your extension with you
With CoreNexa™ UC and Mobile App, all the features of a desk phone can be realized by your PC and mobile device. Available using Windows, Mac, Linux, iOS, and Android, CoreNexa makes real-time business communication easy across multiple devices.
KEEP YOUR COMPETITIVE EDGE WITH
CoreNexa™ Mobile enables employees to work from wherever they are. Whether they're in the office, at home, or on the road, they can make and take calls as if they were right at their desks.
This trend toward more flexibility at work is growing, in fact, industry specialists predict that the U.S. remote worker population will increase to 105.4 million in 2020. According to a recent Gartner study, 43% of workers spent some of their time working remotely.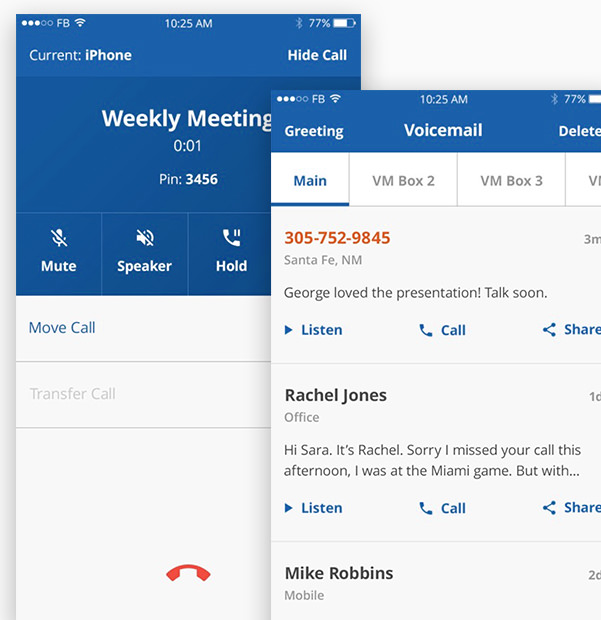 Conduct face-to-face video calls and meetings with one or multiple guests inside or outside the company. Participants can share their screen while presenting, or simply use CoreNexa UC's video and screen share features for more personalized and efficient collaboration.
Easily click to make, hold, mute, transfer and record a call to any phone number or extension. Missed a call? No worries, we keep all your call history right at your fingertips.
Reduce caller frustration and wait times by automatically forwarding calls to extension, mobile number, voicemail or any designated destination when you can't accept a call.
Manage and listen to voicemails from their contacts on a single screen, and view visual message transcriptions powered by Google's Cloud Speech API.
When you're not available for a call, simply type a quick message to a coworker or to a team, and have an instant sharing of ideas regardless of where you are.
Simply click on the Attach icon on your chat box and you can choose any type of file to share. Super easy and secure.
See who is available, busy or offline immediately and intuitively with colored status indicators. Customized presence message allows your colleagues to know when and how best to contact you.
Need a hassle-free environment? Switch to Do Not Disturb Mode and concentrate on your urgent tasks.
View, create, and manage all your company/personal contacts. See details – extension, mobile number, and personal profile picture will all be unfolded with a simple click.
Call-pop and call journal from your Salesforce CRM, Microsoft Outlook Contacts and Google Contacts. 
As an alternative to our CoreNexa mobile app, you can download a preconfigured Zoiper.